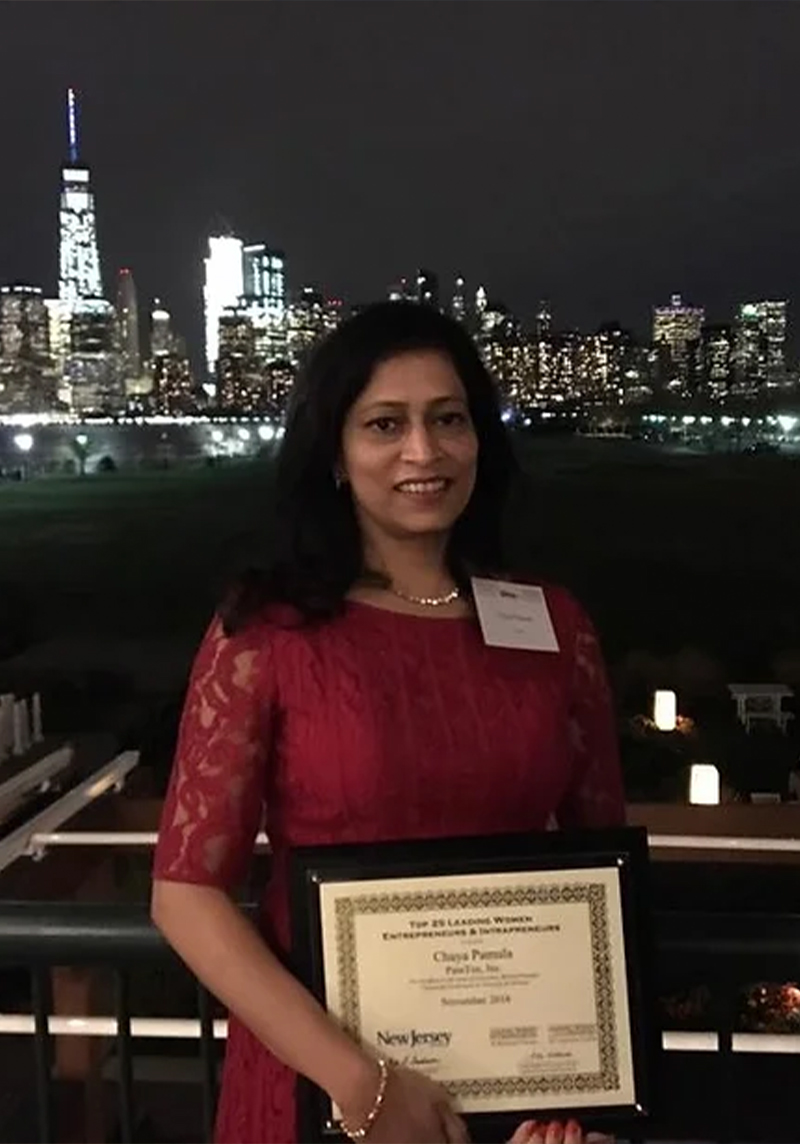 President & CEO, PAMTEN Inc & SMAC Apps LLC
Founder, SHETEK & SOFKIN
New Jersey and California, USA
Education
Harvard Business School Executive Education
Masters in Business Administration (MBA)
Business Process Management Professional (BPMP)
Project Management Professional (PMP)
Six Sigma Green Belt
Public Companies
Board of Director, Metropolitan Commercial Holding Company NY
Educational Institutions
Member of Dean's Council, Rutgers Business School, Camden NJ

Advisory Board Member, Rider University NJ
Chambers and Associations
Advisory Board Member, TechUnited, NJ

Women In Technology of NJTech Council: NJBIA; AICC
"I'm a true believer in the Law of Attraction… if you desire something unselfishly, the answer will present itself."
Chaya has over 25 years of Information Technology experience and has led many productivity initiatives that involved Business Process Improvement, business transformation/re engineering, and IT portfolio optimization. Chaya established and led the Business Process Management Center Of Excellence (BPM COE), defined standards, governance and created COEs for large corporations.
As President and CEO of PamTen, Chaya conceptualizes innovative software products that open doors into new marketplaces for PamTen and its clients, and oversees the development of these products from concept to prototyping to implementation for clients in USA, Canada, and India.
Chaya has two siblings and she feels blessed to be born to her wonderful parents.  Chaya lost her parents when she was a teenager. She attributes the inspiration and determination behind her success to the promise she made to her mother before she passed away. Chaya worked hard to keep up her promise to grow in both her personal and professional lives.
Having lost her parents at a young age, Chaya combined her business acumen and passion for charity to found SOFKIN (www.sofkin.org), a non-profit organization creating loving and caring homes for destitute and under privileged children.  Over 100 children are given medical attention, cared for, fed, educated, and provided with a nurturing environment which encourages overall personality growth and leadership skills under Chaya's guidance and inspiration.
Chaya also founded the Global Women's League, a networking organization that creates a platform to inspire, influence, and empower women with leadership skills through affiliation with successful leaders and similar organization. She mentors young high school and college graduates in progressing their professional career.
Chaya is also serving as a trustee on the board of  MAHER (www.maherashram.org),  a non-profit organization aimed at supporting destitute women and children, and Satyana Institute (www.satyana.org) supporting communities through gender reconciliation and inter spiritual training and workshops. Chaya is currently serving as a board member on many professional and women empowerment associations.
Chaya divides her time between New Jersey and California, USA with her husband Satya Mohan and cute little dog Coco. Her husband works as an IT director in BNY Melon in NY. Anusha, her daughter, after graduating from Harvard Law School, worked in NYC, then moved to California, where she opened a social impact law practice – Radicle Law.
Chaya sings Indian classical music, plays the musical instrument 'Veena', an animal lover and enjoys working with children, reading books, cooking, painting and making handicrafts.