The Power of Mentorship
Speaking Engagements
Chaya's passion lies in the uplifting and empowerment of young girls and women through encouragement, guidance, and mentorship.
Having navigated numerous hurdles in her own life without the privilege of a mentor in her formative years, due to the loss of her parents at a tender age. Chaya drew inspiration from observing accomplished leaders and their journeys. During her early childhood, Chaya's role model was her mother, who, despite a high school education, epitomized dignity, intelligence, and bravery. As Chaya notes, "She skillfully managed our extensive family while radiating respect and compassion within our community. Reflecting upon her life, I believe that with proper guidance, she could have achieved her dream career." 
As Chaya ascended the professional ladder, she was confronted with gender biases and cultural obstacles. "I was the sole woman manager of a 5000-employee manufacturing company in India, challenged to lead teams unaccustomed to a female authority figure," she says.  
This experience proved demanding yet instrumental in sculpting Chaya's strength and empathy as a leader. She goes on to explain, "I was fortunate to encounter mentors who extended their wisdom and support, enriching both my personal and professional trajectories. Profound gratitude is reserved for those who steadfastly stood by me during my times of need."  During her life she has been graced with multiple mentors, each contributing to different facets or her interests, such as philanthropy, business, and personal growth. Chaya knows that just as mentorship has helped her thrive, so it can for others.
This brought forward Chaya's passion to help girls facing comparable challenges and provide the encouragement, aid, and support they need.
 Over the past decade, Chaya has mentored young women, an endeavor which not only benefits these women, but from which she also glean insights. Chaya notes, "Mentorship, I've discovered, forms a symbiotic connection wherein both mentor and mentee learn from one another." The cornerstone of fruitful mentorship is a clear understanding of the mentee's aspirations, coupled with the identification of an appropriate mentor. In her unwavering commitment, Chaya finds fulfillment, knowing that the guidance offered may cultivate the seeds of greatness within others.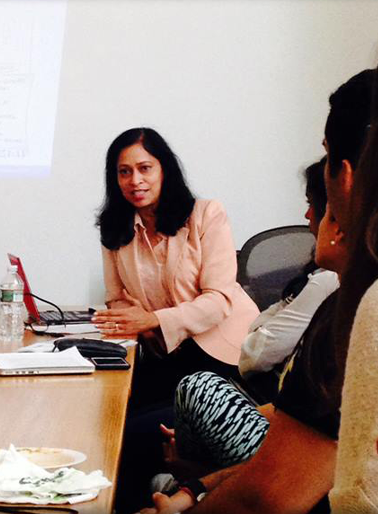 MENTORSHIP PROGRAM PARTICIPATION
Chaya has mentored dozens of women over the course of time. Some have been informal mentorships, built upon as the persons experience grew. Others have been a part of formal programs including:
American Corporate Partners mentorship program for returning veterans
Wings for Growth – Women's Initiative to Nurture Growth and Success
Support Organization for Kids in Need (SOFKIN)
SheTek – Advancing Opportunities for Women in Technology
Chaya has also worked with many high school and college students, supporting and encouraging their interest in STEM. Her inspiration and guidance are helping to build the next generation of technologists.